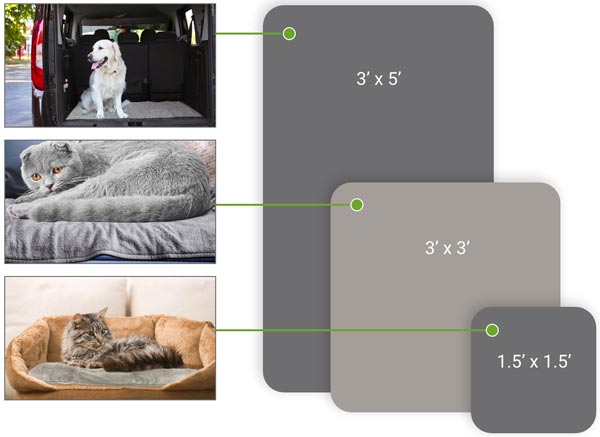 Unlike Any Waterproof Pet Pee Pad On The Market Today
PeapodMats are super absorbent waterproof, reusable, and breathable mats!

They offer a variety of uses for important members of our families - our fur babies! Place on their bed, in the back of the car or even on the couch to protect against mess and leakage.

So soft and comfy your pets will love to cuddle on these waterproof mats. You'll love how they stay in place, absorb liquids and messes, and are so easy to wash and dry.
Buy Now!
Shop PeapodMats
100% leakproof mats that make clean-up easy. PeapodMats are reusable, washable & breathable and that stay in place with no straps or velcro. Save time with a bedwetting/incontinence mat that's easy to pull off & toss in the laundry machine.

Buy 2 or more PeapodMats and you'll get 15% off your entire order!
Regular price

$56.99 USD

Sale price

$45.59 USD

Unit price

per

Regular price

$41.99 USD

Sale price

$35.69 USD

Unit price

per

Regular price

$21.99 USD

Sale price

$19.79 USD

Unit price

per
Other Ways For You To Use Your Pet Pee Pad
Breast Feeding Mat
Menstruation
Vehicle Seat Protector
Furniture Protector
Post Surgery
Sleep-overs
Preschool Rest Mat
Bathing Mat
Toddler Nappy Time Mat
Highchair Liner
Stroller Liner
Frequently Asked Questions
WHAT ARE PEAPODMATS MADE OF?

POD-TEX™technology is a unique triple-layer design to create a leakproof, breathable and reusable bedwetting/incontinence mat.
TOP LAYER - 100% terry cotton. Grid stitched to prevent bunching.
MID LAYER - Polyester wadding. To absorb and disperse moisture.
UNDER LAYER - Coated polyester for waterproofing. Constructed to grip

PeapodMats® feature TPU waterproof coating and are certified by an independent third-party lab to be free of lead, cadmium, mercury and all phthalates. PeapodMats® are a green solution for the environment!
WHAT IS THE BEST WAY TO PLACE OUR PEAPODMAT ON THE BED?

Thanks for asking! We highly recommend that the PeapodMat be placed slightly under the pillow.  
CAN I WASH MY PEAPODMAT WITH REGULAR LAUNDRY?

Launder with like colors and treat your PeapodMat like a big towel in your regular wash. NOT recommended is the use of fabric softener, dryer sheets, dryer balls or bleach. These products are known to reduce the quality of waterproofing. Vinegar or Oxyclean may be use once in awhile if you need to deodorize your PeapodMat.
HOW MUCH LIQUID WILL THE PEAPODMAT ABSORB?

Lots! The 3x3 and 3x5 PeapodMats will safely absorb more than 1 litre+/6 cups of liquid. That is more than the average adult will urinate. A healthy adult bladder can hold up to 16 ounces/2 cups of urine. The 1.5x1.5 PeapodMats will hold up to 1/2 cup of liquid.
HOW DO I KEEP MY MATTRESS DRY & CLEAN WITH A PEAPOD MAT?

PeapodMats should be placed flat ON TOP of bed sheets or surfaces, with the grippy material underneath. This way, the mat stays flat without bunching, and with no need to wrap the mat around corners. If you need to protect a larger area, choose our biggest size, or even two PeapodMats side by side!
What Others Say
These Are The Best!

"Hi. I think these are the best. I have an older dog that sometime has bladder control issues. Unfortunately she has developed a habit of sleeping on our bed, sofa etc. We have spoiled her over the years and it too late and too cruel to stop her now. So I bought a couple a pea pods and they work beautifully and wash up so well. Today the weather is great so they are on the clothesline.

- Joyce

Great Idea!

"Our 5 yr old deaf cattle dog has monthly seizures. We have thrown away so many dog beds it's crazy. We've even had to throw away couch cushions. Tried lining everything with plastic that didn't last long. Your idea is perfect for us as now we can line the beds with your mats and not have to worry!! I'm buying some right now!! Great idea!!! Well done ladies!!"

- Pamela

Works Wonderfully

"Just wanted to let you know that the peapod mat works wonderfully for my old dog who sometimes has accidents in her sleep. Makes cleanup so much nicer and saves on floors and furniture. So much nicer than doggy diapers. Thanks for these lovely little items".

- Jen
We've pulled together this list of perfect gift ideas for caregivers, new mothers, or anyone in between. Check out our Holiday Gift Guide today for some inspiration this festive season.

We've pulled together this list of perfect gift ideas for caregivers, new mothers, or anyone in between. Check out our Holiday Gift Guide today for some inspiration this festive season.

Read More

Thinking about how to become a more sustainable parent? Check out our list with 15 recommendations on how to become a more sustainable parent.

Thinking about how to become a more sustainable parent? Check out our list with 15 recommendations on how to become a more sustainable parent.

Read More

One powerful way to gain knowledge, inspiration, and support is through reading books that are tailored to your unique caregiving situation. In this blog post, we'll recommend a selection of...

One powerful way to gain knowledge, inspiration, and support is through reading books that are tailored to your unique caregiving situation. In this blog post, we'll recommend a selection of...

Read More